James' Pokémon tournament 12/2/23
Posted by James Shilingis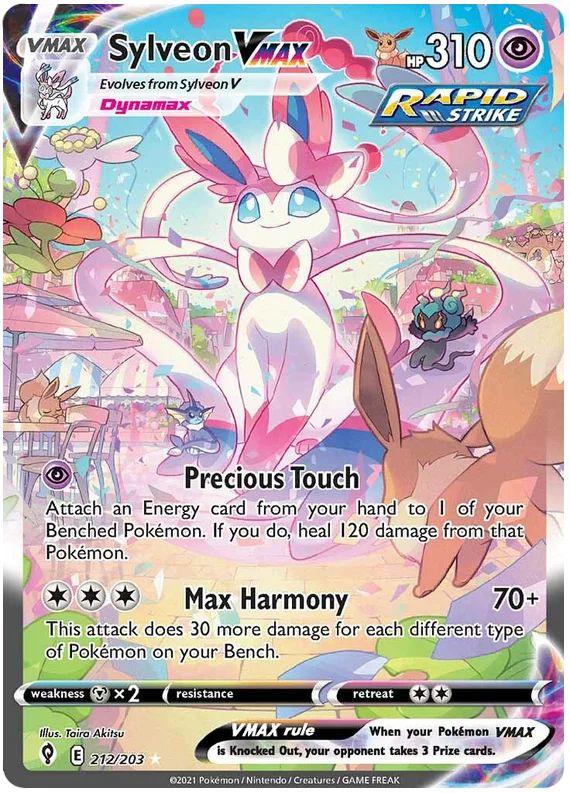 James recently competed in a Pokémon Trading Card Game tournament held at Nerdbase in Battlesbridge, and placed 5th out of 16 players with his Sylveon VMAX deck. It was an exciting day filled with intense battles and fierce competition, but James came out well with a result of 2 wins, 1 tie, and 1 loss.
For those unfamiliar with the Pokémon TCG, players construct decks of 60 cards featuring Pokémon, Trainer cards, and Energy cards, and then compete against each other in a best-of-three format. In order to win, a player must either knock out six of their opponent's Pokémon or deplete their opponent's deck of cards. You can see James's full deck list below.
James's Sylveon VMAX deck was a crowd-pleaser, featuring the powerful Sylveon VMAX card as its main attacker. This card has an Ability that allows it to deal extra damage to the opponent's Pokémon depending on how may different types of Pokémon are on his bench, making it a formidable force on the battlefield. James's deck also included a variety of other popular Pokémon, such as Octillery, Rayquaza, and Blaziken, as well as a variety of Trainer cards to support his strategy.
The tournament was a long and gruelling day, with James facing tough competition in every round. However, his strong deck and strategic thinking allowed him to secure two wins, one tie, and one loss. Although he didn't win first place, James's performance was impressive, especially considering the high level of competition at the tournament.
In the end, James was thrilled to have placed 5th out of 16 players and is already looking forward to his next tournament. For those interested in the Pokémon TCG, James's Sylveon VMAX deck is a great example of a well-rounded deck that can perform well in a competitive setting despite not being part of the current meta. Whether you're a seasoned player or just starting out, it's a deck worth considering for your next tournament.
In conclusion, the Pokémon TCG tournament at Nerdbase in Battlesbridge was a great success, and James's performance with his Sylveon VMAX deck was truly impressive. We look forward to seeing James and his deck in action at future tournaments, and wish him the best of luck in his next tournament!
Deck List: